The EVO Visian ICL is an implantable contact lens which allows for your surgeon to correct a high amount of near-sightedness and moderate astigmatism if you are not a candidate for traditional LASIK.
The EVO Visian ICL is implanted in the eye behind the iris and in front of the natural crystalline lens to correct nearsightedness that ranges from -3.00 diopters to -20.00 diopters and up to 4.00 diopters of astigmatism.
The lens is made of Collamer®, a collagen polymer, which is bio compatible. It also provides ultraviolet protection.
The Benefits of Visian ICL
Quality of vision obtained
Compatibility of the implant with the eye
Treatment of myopia above what LASIK or PRK can correct
Safety
Lens placement is not visible to patient
Removable and replaceable
Ultraviolet protection
Candidates for the Visian ICL Procedure
For an ideal result, patients should not have any history of iritis, glaucoma or diabetic retinopathy.
Patients must meet FDA criteria for the procedure:
Must be adults between the ages of 21 years to 45 years of age
The anterior chamber depth must be 3.00 mm or greater
Had stable vision for at least a year prior to implantation
Nearsighted
Patients not eligible for the Visian ICL are those with the following:
Anterior chamber depth is less than 3.00 mm
Pregnant or nursing
Did not meet the requirements for endothelial cell density
Narrow angle of the anterior chamber is less than Grade II
Patients with thin corneas, dry eyes or high prescriptions, who are not candidates for LASIK or PRK, may be eligible for Visian ICL vision correction.
NVISION also has a great writeup about the Visian ICL here: https://www.nvisioncenters.com/laser-surgery/icl/
Dr. Angelique Pillar, MD is a EVO Visian ICL Certified Surgeon.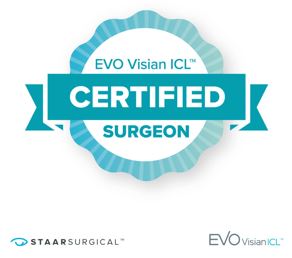 Join actress Peyton List, professional basketball player Max Strus and Joe Jonas to
Upgrade Your Vision with EVO