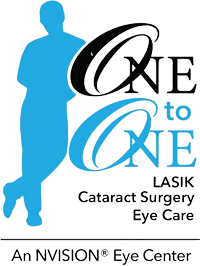 One to One LASIK – NVISION Clairemont / Pacific Beach
3737 Moraga Ave Suite A-105
San Diego, CA 92117
Phone: (858) 273-0200 Fax: (858) 273-0619
OFFICE HOURS:
Monday – Friday 7:30 AM – 4:30 PM
Saturday, Sunday and Holidays Closed
For Billing questions please patients can reach the NVISION billing team by dialing: 844-334-9394
Our Mission
At One to One LASIK San Diego, the difference is the time our highly respected doctors and staff spend with each and every patient. That's important, because we know it can be a little scary to have an eye or vision problem or to think about having LASIK, cataract surgery, or any eye treatment.
Eye surgery is an exciting and frequently life-changing experience, and at One to One LASIK San Diego, we love to share in the excitement of every patient we treat. The best way for us to make sure you're thrilled with your results is to take the time to learn about your needs and expectations beforehand. Then, we'll do everything we can to meet or exceed them. We'll teach and guide you as you make important decisions about your care. We'll "hold your hand" through the entire exam and treatment process. We'll use the most advanced technology available. We'll be available to you 24/7/365 in case you have any concerns. We'll devote ourselves completely to helping you achieve your best possible vision.
We've won lots of "Top Doctor" and "Patients' Choice" awards but what matters most to us is what YOU think every time you visit our office and surgery centers. We want you to leave saying "Wow! I've never had a more thorough eye exam or a doctor who spent so much time with me." That's what makes One to One LASIK San Diego different, and we look forward to proving it to you . . . One to One.
Location
One to One Lasik is located in Clairemont, San Diego, CA and proudly serves the towns of Mission Beach, Pacific Beach, Ocean Beach, Point Loma, Mission Valley, Chula Vista, La Jolla, Point Loma Heights, Sunset Cliffs, Coronado, Mission Bay, University Heights, Hillcrest, La Mesa, Lemon Grove, Spring Valley, National City, El Cajon, Imperial Beach, Bonita, Escondido, Santee, Ramona, Solana Beach, and Del Mar.
Insurance
In addition to Medicare and Tricare, we take the following PPO Plans:
Aetna
Anthem
Blue Cross
Blue Shield
Cigna
GEHA
Health Net
Humana
Multiplan
Nippon Life Benefits
PHCS
Samba
United Healthcare
UMR
With primary care physician (PCP) referral, we are able to see Astiva Health HMO, Triwest, and Tricare Prime.
Medical Insurance Versus Vision Insurance
There are two types of insurance that may provide benefits to help you pay for your eye care services and products. Our practice accepts plans from many providers, both medical insurance and vision insurance.
Medical Insurance is used for the diagnosis, management, and treatment of eye diseases and injuries. Your doctor will determine if these conditions apply to you, but certain conditions may be considered by case history.
Vision Care Plans have benefits that cover routine eye exams as well as eyeglasses or contact lenses. Your vision plan may also cover a basic screening for eye diseases or conditions. They do not cover diagnosis, management, or treatment of eye diseases. We take the following vision plans:
Vision Service Plan (VSP)
EyeMed
If you have both types of insurance plans, it may be necessary for us to bill some services to your Vision Care Plan and others to your Medical Insurance. Insurance does not allow for us to bill for both on the same day. Scheduling a separate appointment to care for vision needs and medical needs may reduce your out of pocket costs. We evaluate your specific situation to coordinate your benefits to maximize your coverage.
We offer the most advanced surgery available
We are experts in advanced, painless, "small-incision" cataract surgery in which your cloudy cataract is removed through an incision about the size of a pencil tip and then replaced with an advanced lens implant that can be folded and inserted through the same tiny incision. We offer the most advanced multifocal lens implant technology like the RxSight Light Adjustable lens allows for adjustability after your cataract surgery is done, the Alcon PanOptix and Alcon Vivity implants which reduce or eliminate the need for reading glasses after surgery, and the Clareon and Envista Toric, implant that reduces astigmatism to help decrease your dependence on glasses to see far away. We were one of the first practices in San Diego to offer the IC-8 Apthera lens which is the first small aperture presbyopia-correcting lens that delivers extended depth of focus.
We are experts in corneal transplantation and minimally invasive glaucoma surgery. We pride ourselves in offering the highest level of evidence based medical and surgical care.
Our patients come from word-of-mouth referral
The vast majority of our patients are referred by word-of-mouth from other satisfied patients. We don't advertise – yet thousands of patients have sought us out for their cataract surgery. Why? First and foremost, because we offer the most advanced technology and get GREAT results. But there's much more. Our doctors and staff are uniquely warm and welcoming. We take the time to get to know your individual vision needs. We don't try to "sell" you anything. We simply educate you about cataract surgery, very thoroughly, and give you an honest assessment of whether or not you're a good candidate. We answer all of your questions. And we hold your hand each step of the way, before, during and after surgery.
We'll Treat you Like Family
From your first phone call, to the moment you walk in our door, throughout your visit with the doctor, and afterwards, you'll find our staff is uniquely warm and welcoming. We'll greet you with a smile. We'll take the time to get to know you and we want you to get to know us. You're a part of the One-to-One family – and we'll treat you like family.
What is One to One LASIK Doing to Keep Safe Against COVID-19?
We hold the SAFETY for patients and staff at the utmost importance. We have made many changes to our office including:
Patient screening: Anyone with symptoms or with family members experiencing Fever, Chills, Nausea and Vomiting, Excessive Coughing and Sneezing or Shortness of Breath are pre-screened and asked to be rescheduled.
Face masks are an option for all patients, staff, and doctors to wear.
Safety shields are set up at the front desk as are sneeze guards which are installed in every slit lamp.
Rooms and equipment are completely wiped down after each patient with alcohol and wipes.
This page was updated by Angelique Pillar, MD on 5/28/23.